Rackslab announces the first beta release of RacksDB v0.1.0~beta, an open source solution to modelize your datacenters infrastructures.
RacksDB provides a simple YAML-based database schema to store information about the equipments in your datacenters, with tools and library to request this database. This solution can be used as reference source for many purposes in IT management.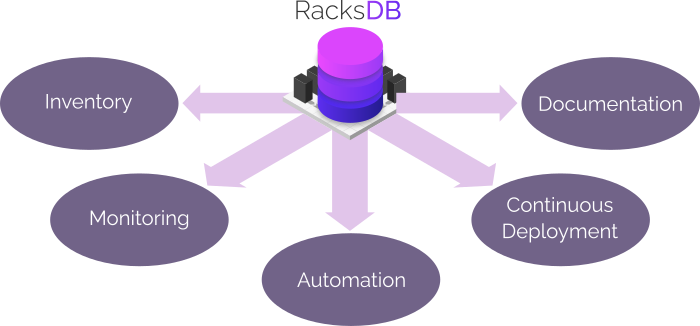 Inventory: Get permanent reference list of equipments charactistics and enable conformity testing.
Automation: Adopt Infrastructure-as-Code by coupling generic configuration management logic with infrastructures model.
Continuous deployment: Define advanced deployment rules based on nodes characteristics declared in RacksDB.
Monitoring: Synchronize monitoring services with equipments database and define dynamic dashboard.
Documentation: Get updated architecture diagrams and define generic adaptative procedures.
RacksDB has many characteristics that makes it unique among other solutions. For more details, read the full description of its features!
Ready to try? Follow the quickstart guide!
Useful links: